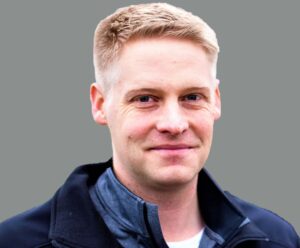 Colin Hurd, CEO of MACH, has founded multiple companies in his career and cemented himself as a leader in the agriculture automation industry. This past month, Alison Doyle, Chief Relationship Officer at the Iowa State University Research Park, had a chance to interview Hurd on the Innovators Podcast. They discussed topics from his journey through innovation to the future of automation in the agriculture industry.
Hurd, an alum of Iowa State University, founded his first start-up while still in college. Agriculture Concepts focused on combating crop stunting that occurred next to the wheel tracks in planters. It was born with the help of Ag Startup Engine, a private ag tech investment and mentorship group based in the ISU Research Park. When asked about entering the world of startups right after graduation, Hurd recalled in the podcast that "Going from broke to broke didn't seem all that threatening." Hurd would go on to sell Agriculture Concepts in 2016.
Through his work with Agriculture Concepts, Hurd's eyes were opened to multiple other problems in production agriculture, specifically labor. This was the foundation for his second company, Smart Ag, which was the first retrofit driverless system developed for agriculture. Their first product was AutoCart, a system that allowed the tractors driving grain carts to function autonomously. Smart Ag was eventually acquired by Raven Industries, which was then acquired by CNH Industrial. Ag Startup Engine was also an investor in Smart Ag, and they became ASE's first exit.
These events led Hurd to his first experience being employed by another company. "It was a good experience for me. I was overdue for a break, honestly," Hurd stated. Being an employee, rather than the founder, allowed him to gain a new perspective. For the first time, he was able to have a broader view of the industry. After being employed for two and a half years, Hurd decided he was ready for his next innovative endeavor.
In 2022, Hurd became the CEO of MACH, which was formed via a merger between LSA Autonomy and Redshield Electronics. MACH specializes in providing Original Equipment Manufacturers a variety of dynamic solutions to support autonomy. Some of their solutions include automated greenhouse machinery, fully autonomous ag vehicles, remote site management, and machine to cloud communication, among others.
Not only is Hurd the CEO of MACH; he also serves as a mentor for Ag Startup Engine. He wants to give back to the ecosystem in any way he can. Having founded a couple of companies with support from ASE, he feels he can bring valuable experience to the table. He said he wants to be what he needed as a young entrepreneur – someone to give advice and provide feedback.
To listen to the full interview with Colin Hurd, check out the Innovators Podcast: Episode 36 on Spotify, Apple Music, or Amazon Music.