Rick Sanders
President and Director of ISU Research Park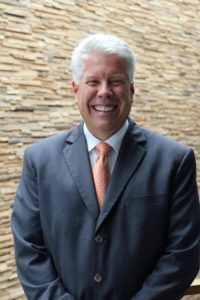 Rick was named President and Director in May 2019 after a nationwide search. He is responsible for all aspects of the development and operation of the ISU Research Park that today includes 400 acres; 800,000 square feet of finished commercial space; hosts more than 90 companies from startups to Fortune 500 companies; and is home to more than 2,000 employees.
Sanders has an extensive professional background that includes working in local government, association management, business development and higher education.
Rick and his wife Calli have lived in Ames since 2003 after stops in Alabama, Montana and Maine.  They are the proud parents of 3 adult children. Together, they enjoy traveling, hiking, ISU sporting events and quiet time on the deck.
Contact: rsanders@iastate.edu
Cell: (515) 708-0158
Alison Doyle
Chief Relationship Officer (CRO) – Director of Campus & Business Engagement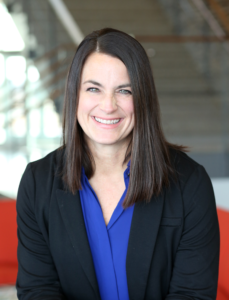 Alison joined the Iowa State University Research Park in 2008 after spending ten years working in advertising agencies and start-up companies. She leads the ISU Research Park's marketing, communications, public relations, events, and community-building efforts. She also serves as a liaison for the ISU Research Park companies as they look to build and strengthen relationships with ISU.
A proud ISU graduate, she returned to Ames after previously living in Missouri, Vermont, California, Washington, Germany, and England. She enjoys spending time with her family, traveling, riding her bike, teaching and practicing yoga, and attending sporting events.
Contact: adoyle@iastate.edu
Nathan Easter
Associate ISURP Director and Chief Operations Officer (COO)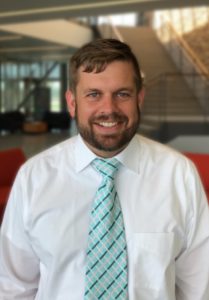 Nate has been with the ISU Research Park since July of 2014. He is in charge of managing the many construction projects around the Research Park. Nate graduated from Iowa State University in 2000 with a degree in Civil Engineering and worked as an engineering consultant from 2000 until taking the job at the ISU Research Park. He also is a licensed State of Iowa Professional Engineer.
Nate loves to spend time with his wife and three children. He enjoys playing golf, fishing, soccer, softball and riding scooters. He also enjoys going on ISU football road trips, traveling to Texas, Colorado, Kansas, Nebraska, Missouri and New York for games. Here at the Park, Nate enjoys creating relationships with tenants and watching companies grow.
Nate's biggest regret in life is not earning an ISU Intramural Championship T-shirt in his time at Iowa State.
Contact: neaster@iastate.edu
Michele Farnham
Manager of Facilities Services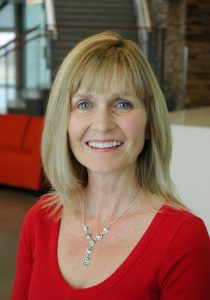 Michele started working at the Iowa State University Research Park in 1995. She manages the physical operations of the landscaped grounds, parking lots and buildings, including maintenance, custodial and grounds personnel. She is also the primary communication liaison between tenants and the ISU Research Park, helping determine facility and service needs for all.
Michele has seen the ISU Research Park grow from two buildings to the current expansion. She is excited to see the continued growth as the park reaches new heights.
When she's not at work, Michele enjoys being active. She also enjoys traveling, reading, spending time with family and friends, and cheering on the Iowa State Cyclones.
 Contact: mfarnham@iastate.edu
Rebecca Williams
Office Manager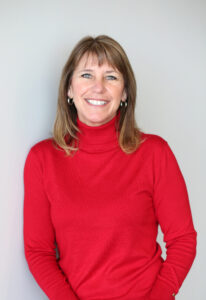 The majority of Becky's working career has been spent in executive support roles in a variety of industries; Insurance, Agriculture, and City and State Education. Becky started at Iowa State in 2000 at the College of Veterinarian Medicine. She also worked at the Ames Community School District for 9 years. In 2013 she returned to Iowa State in the President's office and transitioned over to EDIR which lead her to her current role with the Research Park in 2019.
Growing up in South Dakota and having lived in Minnesota, Illinois and Kansas, Becky and her husband Shane have lived in Ames since 2000.  They have 2 adult children and 1 grandchild. They love spending time with family and friends and being at their cabin in Northern Minnesota.
Contact: becky@iastate.edu 
Marty Noe
Maintenance Technician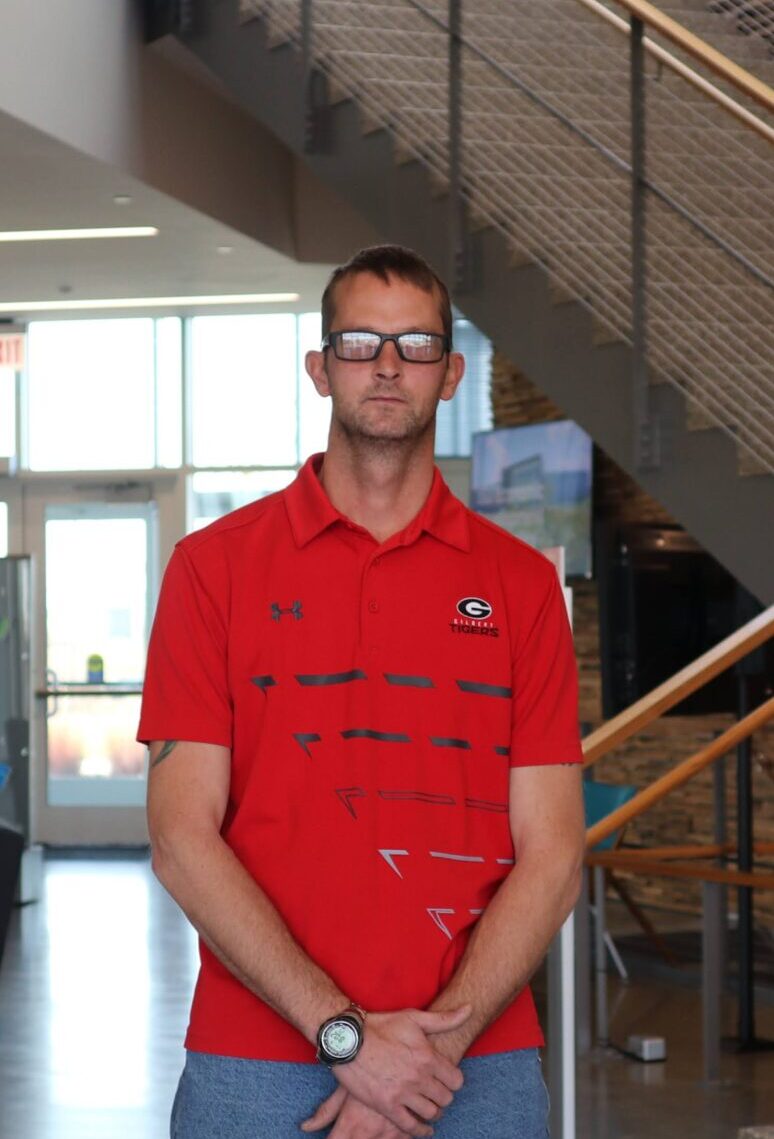 Marty Noe started with the ISURP in fall of 2020 as the Building Services Maintenance Technician. Marty served 12 years in the National Guard. His service in the military has equipped him for his position at the Research Park. Marty's background is in manufacturing and maintenance. 
When Marty is not at the Research Park, he spends time with his kids and perfecting his craft woodworking in Gilbert, Iowa.
Contact: mnoe@iastate.edu

Matt Stenzel
Intern

Matt was brought on as an intern in April 2018. He is currently a senior majoring in Agricultural Business and Economics. Matt has loved being a part of big events such as grand openings and expansions because it means the Park is growing. 
Matt grew up in Hamburg, Iowa. On campus, he is involved in FarmHouse Fraternity, a few professional clubs and loves competing in intramural sports.
Contact: mstenzel@iastate.edu
Carter Mumm
Intern

Carter started his journey at the ISU Research Park during high school, as a part of the Ames High BEC. He is now a senior at Iowa State double majoring in Marketing and Supply Chain Management. Carter really enjoys being able to interact and network with other young professionals at the Research Park. 
Carter was born and raised in Ames, Iowa and is a cyclone fan through and through. He serves as a student manager and member of the scout team for the Iowa State Women's Basketball team. Carter is also very dedicated to Dance Marathon and is a member of the Family Relations Committee. When he isn't busy with these things, Carter likes to play sports and go hammocking.
Contact: cwmumm@iastate.edu
Tori Novotny
Intern

Victoria joined the intern team in the fall of 2018. She is currently a senior pursuing her degree in Marketing and Digital Media. Her favorite part about working for the Research Park is being able to plan and promote events that are making a difference in the community. Victoria played a huge role in the grand opening of the Tedesco ELC and other community events. 
Victoria is originally from Cottage Grove, Minnesota. At Iowa State, she is a member of Gamma Phi Beta and the marketing club. When she is not working or studying, Victoria enjoys photography, spending time outdoors, and playing volleyball. 
Contact: vnovotny@iastate.edu
Sarah Lagomarcino
Intern

Sarah began her internship with the ISU Research Park in October 2019. She is currently a junior majoring in Finance and Accounting. Sarah enjoys the ability to work closely with a variety of people and finds the hands-on experience very valuable. Most recently, she has been working on a student networking event with Victoria.
Sarah is from West Des Moines, Iowa. On campus, she serves as chapter president of her sorority, Gamma Phi Beta, and is involved in the University Honors Program. In her free time, Sarah loves to run and be outdoors, but you can also count on seeing her at local coffee shops with her friends.
Contact: sarahl3@iastate.edu
Lehr Thorson
Intern

Lehr is a senior at Iowa State majoring in Event Management with a minor in Public Relations and a certificate in Leadership Studies. This is her first year as an intern with the ISU Research Park. Lehr is excited to join the community of young professionals at the Research Park and be able to further her knowledge in event planning.
Lehr is from Fort Dodge, Iowa. She is a member of the University Swim and Dive Team. Aside from swimming, Lehr has been a member of The Student Athlete Advisory Committee since her freshman year, and this year she serves as President. In her free time, Lehr enjoys hanging out with friends or riding her bike.
Contact: Lehrt@iastate.edu
Tavin Hays
Intern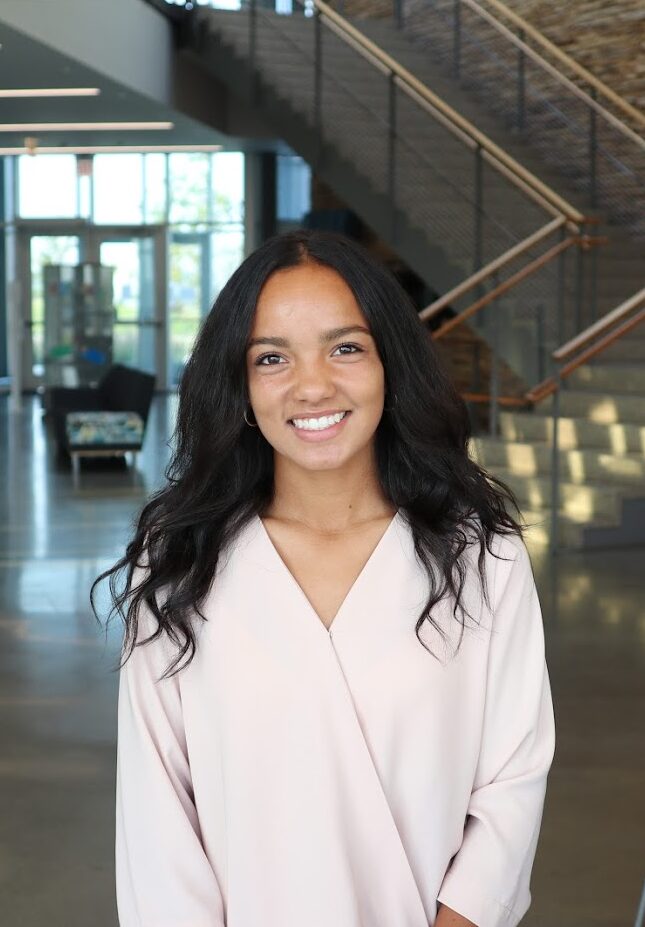 Tavin began her internship with ISU Research Park in the Fall of 2020. She is currently a senior majoring in Speech Communication and Public Relations. Tavin loves seeing new ideas come to fruition from the team.
Tavin is from Las Vegas, Nevada. On campus, she is known for her role as a two-time captain of the ISU Women's Soccer team. When she is not working or playing soccer, she is spending time outside with friends.
Leah Mosher
Intern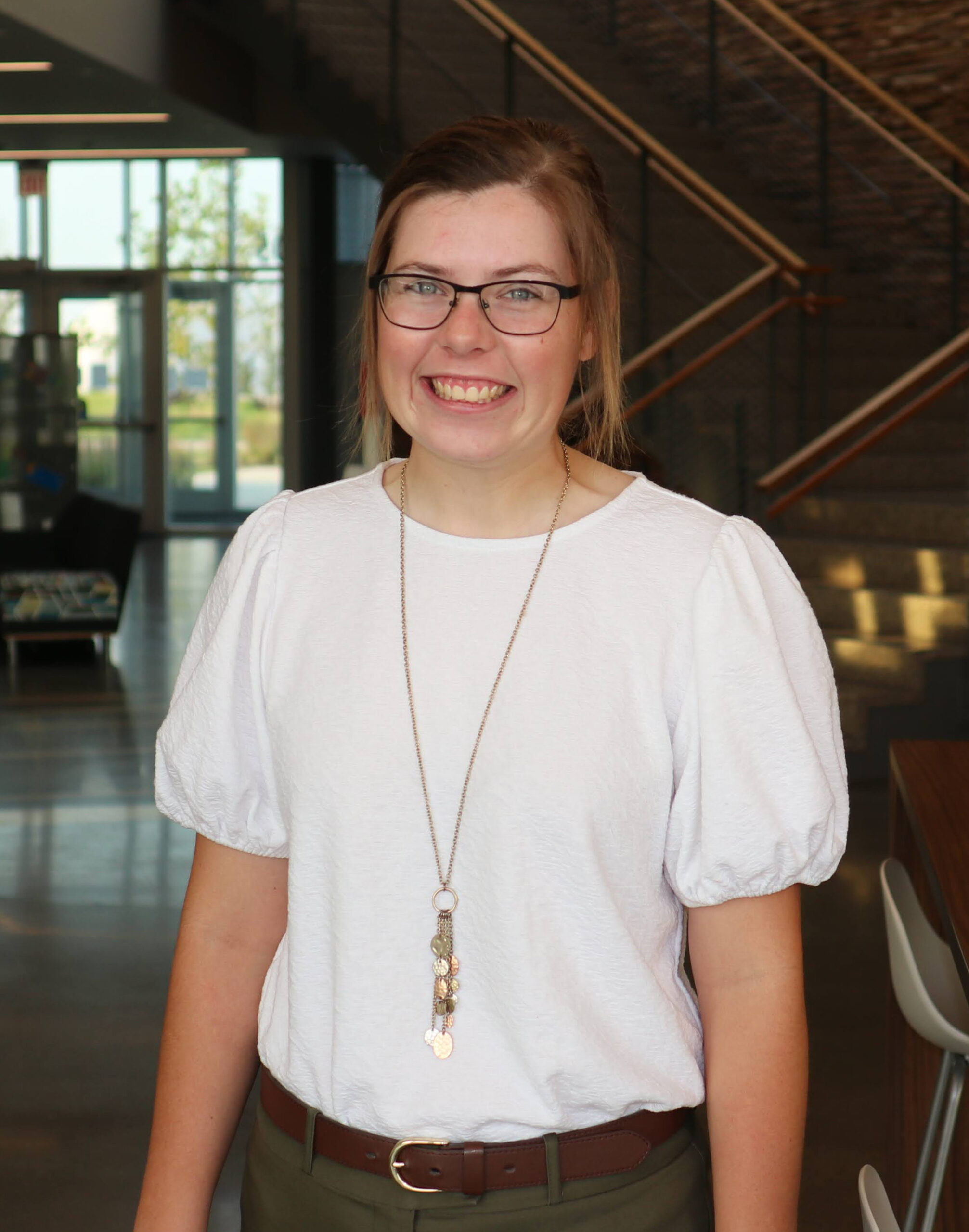 Leah started as an intern at the ISU Research Park in August, 2020. She is currently a sophomore majoring in Agriculture and Society with a minor in Animal Science. Leah grew up in Liscomb, Iowa and is involved in the College of Agriculture and Life Sciences Ambassadors, Collegiate Cattlemen, and Rodeo Club on campus.
Leah is excited to experience the new developments on the Research Park and build relationships with the staff and other interns.