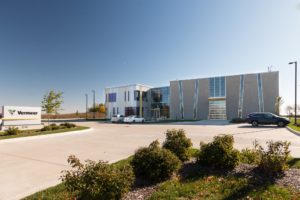 Need space to create and collaborate but aren't ready to lease office space? The Startup Factory Co-Working LaunchSpace has what your team needs to succeed. Take advantage of resources, amenities and space in the state-of-the-art Vermeer Applied Technology Hub at a fraction of the cost. A LaunchSpace membership includes:
Access to the Facility between the hours of 7:30 am and 5:30 pm Monday-Friday (24/7 access available for an additional fee)
Free Internet access (subject to the Internet Access Policy)
Janitorial services twice per week
Opportunities to participate in special Startup Factory Network events and workshops
Ability to reserve and use conference rooms in the Facility
Access to kitchenette (equipped with refrigerator, coffee maker and microwave oven)
Membership is open to Startup Factory and Ag Startup Engine members or graduates, as well as Research Park affiliates. For more information, contact us here!
Click here to download the Membership Application.