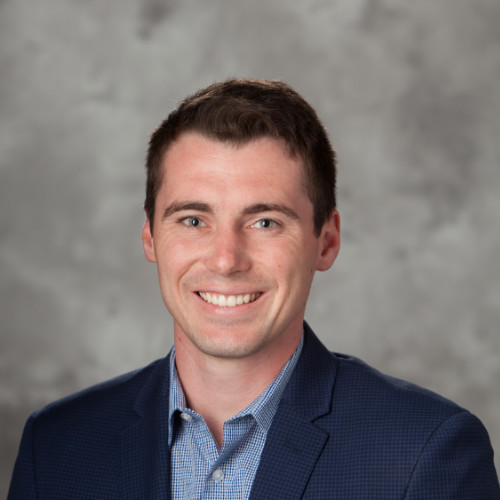 Kyle Martin is returning home to serve the Iowa State University Research Park as its Real Estate Development Operations and Project Manager. The announcement was made today by ISU Research Park President Rick Sanders. Martin, a native of Ames, Iowa, just completed a distinguished seven-year career with Deere & Company where he served in multiple Supply Management positions and gained valuable expertise in operations, procurement, project management, budgeting, contract negotiation and management. He was Project Manager Lead for several complex facility projects at Deere & Company.
"Kyle is an absolute homerun hire for the ISU Research Park and its tenant partners," Sanders said. "The ISU Research Park is committed to providing the spaces and resources to help our innovators flourish. Our administrative team needs people who know and love Iowa State University, have a core desire to help others and are creative problem solvers. It's exciting to have a talent like Kyle come back to his home and bring such outstanding skills to our team."
The newly created position will oversee operations and development of all tenant spaces at the ISU Research Park and include regular interaction with contractors, engineers and vendors to meet the needs of the ISURP's 100+ tenant companies and more than 800,000 square feet of building space. Martin will be involved with real estate development and operations, construction projects of all scopes, land development, capital maintenance and helping meet project financing goals.
"I am thrilled to be joining the ISU Research Park team," Martin said. "As an Ames native and ISU alumni this is a special opportunity to serve a great community that I have the utmost passion for. I am looking forward to using my career experiences to build on the continued success of the Research Park and support an environment for innovators to flourish."
Starting as an intern in 2013 at Deere & Company, Martin served in four additional roles at the company with ever-increasing responsibilities. His most-recent position was as an Indirect Materials Category Lead (2020-21), where he managed $150 million of spend for Paint, Fuels and Environment Services at Deere and oversaw more than 30 work order contracts for various stakeholder projects.
His steady climb at Deere & Company – a Fortune 100 company – included stints as Strategic Supply Management Specialist (2018-20), Supply Management Specialist (2016-18) and Supply Management Planner (2015-16). In each of those roles, Martin was recognized for creating operational efficiencies which resulted in more than a million dollars in total cost savings.
Among his accolades, Martin earned second place at the 2019 Harvester Works Hackathon for automating supplier sequencer reports and he received a Most Outstanding Performance Award from Seeding and Tillage SM leadership in 2018.
Martin earned his Bachelor of Science degree from the Ivy College of Business at Iowa State University (majors in Supply Chain Management and Management) in 2014. He participated with the ISU Supply Chain Club while in school and studied abroad in China (2014). Overseas, he observed Target's distribution center operations. He developed a container standardization strategy for Target, which he presented to the company's senior management team.
Martin plans to pursue a Master of Real Estate Development from Iowa State University Ivy
College of Business this fall.
Kyle and his wife (Brooke) have one daughter (Camryn).
About ISU Research Park
Established in 1987, the Iowa State University Research Park (ISURP) is a booming technology
community and incubator for both expanding and new businesses. Closely affiliated with Iowa
State University, the Research Park provides a spectrum of support resources and services for
its tenants including access to skilled talent (experts in various fields and students eager for
real-world experiences), specialized equipment / labs and a network of like-minded innovators
willing to collaborate. The innovation hub is home to 100+ companies and research centers,
employing more than 2,000 people and occupying approximately 800,000 square feet of
commercial real estate on 400 acres. For more information on ISURP, call 515-296-4204 or visit https://www.isupark.org/